LORENZO GONZÁLEZ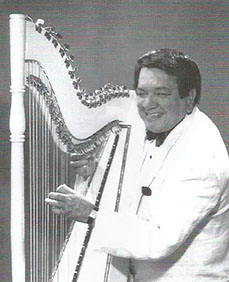 LORENZO GONZÁLEZ
(Por Carlos Raúl González Alborno)
LORENZO GONZÁLEZ nació en Fernando de la Mora, PARAGUAY. De niño su padre Víctor le fabricó un arpa y a los 7 años aprendió a tocarla autodidácticamente. A los 10 años lo llevaron a Buenos Aires, a Radio el Mundo. A los 11 años de edad el gran arpista LORENZO LEGUIZAMÓN se sorprendió al escuchar sus obras de manos del jóven Lorenzo y lo lleva a Radio Guaraní en su programa "Noches de Gala" con el dúo Vargas-Zaldivar. Ahí conoce a José L. Melgarejo quien lo incluye en su elenco de "Fiesta Folklórica Campesina" como "el precoz arpista Lorenzo González". Actúa con el dúo Aguilera-Britez en el renombrado Bar Ideal, con Vargas-Zaldivar y otros. A fines de 1957 Mario Llanes forma LOS MENSAJEROS DEL PARAGUAY incluyendo a Marizza, Amado Sarabia y a Lorenzo González. En 1959 integra la delegación artística a Bolivia organizada por don Félix Fernández. En 1960 viaja a Rio de Janeiro, Brasil e integra el muy renombrado TRÍO YPACARAI. Actúa en FREDDY'S, el más importante cabaret de Rio de Janeiro bajo la dirección orquestal del compositor ARY BARROSO. En 1962 el gran compositor paraguayo Remberto Giménez visita Río de Janeiro e invita a Lorenzo a tocar la guarania INDIA con la Orquesta Sinfónica de la ciudad. En 1964 el TRÍO PARANÁ visita Rio de Janeiro y graban con Lorenzo el disco: "Tres Voces de América". En 1965 el maestro PERUSSI convoca a Lorenzo a grabar el primer disco de arpa y orquesta: ENSUEÑO GUARANÍ, éxito discográfico-musical de difusión internacional. En 1966 actúa con Luis Alberto del Paraná en gira por Brasil. En 1968 emprende viaje a San Diego, Estados Unidos junto al Emb. Roland Robinson, quien lo lleva a conciertos culturales en la principales universidades de Estados Unidos de la Costa Este que redundó en su actuación con un elenco latinoamericano en la Casa Blanca para el presidente Richard Nixon. En 1969 se radicó en Nueva York. En una actuación en el Central Park conoce al famoso director Tito Puente, quien lo lleva a actuar en el Hotel Alameda Room en donde conoce a Lucho Gatica. A mediados de 1969, el Trío Paraná, pide a Lorenzo sustituir a LUIS BORDON e integra así LOS PARANÁ, (The Paranas) hasta fines del 79 trabajando con el circuito LAS VEGAS por Estados Unidos, Canadá y México. En 1980 se radica en Dallas, Texas actuando como solista en bodas, Malls, hoteles y festivales. Desde ahí. emprende conciertos en el Reino Unido, Italia, Francia y Grecia. Desde 1990 actúa en el North Park Mall que posibilitó gran producción discográfica. Lorenzo González sigue radicado en Dallas, Texas, U.S.A.

LORENZO GONZÁLEZ
(By Carlos Raúl González Alborno)
LORENZO GONZALEZ was born in Fernando de la Mora, PARAGUAY. As a child, his father, Victor, made him a harp and at the age of 7 he started to play it by himself. At the age of 10 he traveled to Buenos Aires and performed at Radio el Mundo. At the age of 11, the great harpist LORENZO LEGUIZAMÓN was surprised to hear his songs by the young Lorenzo and took him to his program "Noches de Gala" of Radio Guaraní with the Vargas-Zaldivar duo. There he met José L. Melgarejo who included him in his cast of Fiesta Folklórica Campesina as "the precocious harpist Lorenzo González." He performed with the Aguilera-Britez duo at the famous Bar Ideal. At the end of 1957 Mario Llanes formed "LOS MENSAJEROS DEL PARAGUAY" including Marizza, Amado Sarabia and Lorenzo González. In 1959 he joined the artistic delegation to Bolivia organized by Don Félix Fernández. In 1960 he traveled to Rio de Janeiro, Brazil and joined the very famous TRIO YPACARAI. He performed at FREDDY 'S, the most important cabaret in Rio de Janeiro under the orchestral direction of composer ARY BARROSO. In 1962, the great Paraguayan composer Remberto Giménez visited Rio de Janeiro and invited Lorenzo to play the INDIA guarania with the local City Symphony Orchestra. In 1964 the TRIO PARANÁ visited Rio de Janeiro and recorded with Lorenzo the album: Tres Voces de América". In 1965, the "maestro" PERUSSI summoned Lorenzo to record the first harp and orchestra album: ENSUEÑO GUARANI, an internationally popular record-musical success. In 1966 he performed with Luis Alberto del Paraná on a tour throughout Brazil. In 1968 he traveled to San Diego, United States of America. Amb. Roland Robinson organized several cultural harp concerts at America's leading East Coast universities that resulted in his performance with a Latin American cast at the White House for President Richard Nixon. In 1969 he settled in New York. In a performance in Central Park he met the famous musician Tito Puente who took him to perform at the Alameda Room Hotel where he met Lucho Gatica. In mid-1969, the TRIO PARANÁ asked Lorenzo to replace LUIS BORDON and thus he joined LOS PARANÁ (The Paranas) until the end of 79. They performed with LAS VEGAS circuit throughout the United States, Canada and Mexico. In 1980 he settled in Dallas, Texas performing as a soloist at weddings, malls, hotels and festivals. From there he undertook concerts in the United Kingdom, Italy, France and Greece. Since 1990 he has performed at the North Park Mall which made possible a great record production. Lorenzo González is still based in Dallas, Texas, U.S.A.